Drum-Roll, the brand-new range of cable handling equipment by Securi-Flex® is an innovative and durable range set to transform the way cables, coils and conduit are managed on site.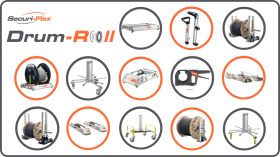 The range, consisting of coil rollers, drum rollers, cable routing, lifting jacks and more, is built to incredibly high standards, made from sustainable metal materials and has received multiple awards for innovation.
Securi-Flex® has been a dedicated supplier of specialist cables for over 25 years, catering to domestic and commercial applications. Cables have always been at the heart of what they do, and as such, they have a clear understanding of the common frustrations and potential issues that can arise during cable handling and installation.
They are proud to introduce their new and unique range of cable handling equipment… Drum-Roll!
The state-of-the-art Drum-Roll range has been designed and built with years of engineering expertise and is the result of their commitment to delivering innovative solutions to the electrical industry that make cable handling safer, quicker, and easier.
With our Drum-Roll range, you can say goodbye to the time consuming and often hazardous task of manual handling and transporting heavy and awkward cable drums, coils, and conduit. The cutting-edge range has been designed to address these common challenges and is a must-have for any professional installer looking to improve their productivity, safety, and overall efficiency.
Built to the highest standards, the range is designed to be maintenance-free and features premium materials and only the best manufacturing techniques.
So, if you're looking for a safe, reliable, and efficient way to handle and transport cables on-site, look no further than the Drum-Roll range by Securi-Flex® – In their professional opinion, it represents the ultimate solution for cable handling needs, setting a new benchmark in the industry.
Securi-Flex® stock a range Cable Handling Equipment. For more information, the sales team are ready and waiting to take your calls and answer any questions that you may have.
You can also contact us by email: [email protected]